Welcome to our English short story lesson for present perfect tense practice. For speaking and listening practice in English, short story lessons are excellent. The listen and response approach will help you speak English more effectively like a native speaker.
We are concentrating on the Present Perfect Tense in this story lesson. You may thus think that the tale is now taking place and those previous events have an impact on the present.
Many questions will come up once you've finished listening to the English story lesson. Try answering these simple questions aloud. If you're unable to speak the responses, be calm and simply listen. For a week, practice the lessons every day. Every time you listen to the English story lesson, your skills will improve, and eventually, you'll be able to speak English like a native.
English Short Story For Present Perfect Tense
Now watch the video lesson below and listen to the present perfect tense story several times. Then, try to answer the easy questions out loud. Repeat the lesson every day for 10 days. Eventually, you will notice that you can think in English automatically. And you will improve your English listening and speaking fast.
Watch our other stories on Youtube!
Present Perfect Tense Practice
The present perfect tense is used to talk about events that have happened in the past but are still present. The present perfect tense is made up of two parts: the present tense and the past perfect tense. The present tense is used to talk about things that are happening now, and the past perfect tense is used to talk about things that have happened in the past but are now past.
Online Grammar Checker & Writing Assistant:  Click here to sign up for free!
Learning English Stories For Listening And Speaking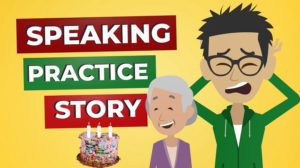 Learning English stories can be a fun way to improve your language skills. English stories can be about familiar characters or events, or they can be completely new stories that you haven't heard before. We use these kinds of stories in a special way to teach English vocabulary and sentences.
There are a lot of different English stories to choose from, and you can find them in different books, magazines, or online. It can be fun to explore different English stories and find ones that intrigue you. However, our story lessons are very different. We have a very powerful method for learning English so that you can improve your speaking skills.
One way to improve your English reading skills is to read English stories aloud. This will help you to develop your pronunciation and to understand the structure of the English language.
Listening lessons for English speaking practice
English listening is the most important activity for speaking English fluently. So you need to practice English listening every day for at least 20 minutes. Learn English through stories with our conversation lessons. Reputation is crucial to automatic speaking. So you need to repeat every lesson for one week.
You will be able to learn English vocabulary from the stories, as well. Especially you are going to learn vocabulary for talking about Daily routines in this lesson. If you are interested in these lessons, you might be considered to get our full course on the English Easy Practice page.
Short stories for learning English grammar