Effortless English Course has helped millions of people to learn English speaking fluently. Now, if you want to improve your English speaking skills fast with A.J. Hoge, download the Power English lessons and start today.
The Power English course has lots of interactive stories. A.J. Hoge teaches you to think in English with these stories. Listen to the Effortless English mini-stories and answer the easy questions repeatedly. You will learn grammar without studying textbooks, naturally. You will learn English vocabulary easily and finally, you will speak English fluently by using Effortless English lessons.
Effortless English Course
Watch our other stories on Youtube!
Have you ever felt embarrassed when trying to speak English?  Have you felt nervous or shy?  Have you learned English for years but still can not speak well?  You are not alone. This is a common problem. Because you learned with the old traditional methods in school.
You want to speak English fluently, quickly, and automatically. You want to feel relaxed and confident every time you speak English. Power English Course is designed to help you speak English like a native speaker.
Hello guys. In this video, we are going to talk about the Power English course which is created by A. J. Hoge from the Effortless English Club.
What will you find in The Course?
Power English is the best course for those who are studying English to improve their English speaking skills fast. In the Power English course, you get six months of audio and video lessons. These are;
Main Audio Lessons

Vocabulary Lessons

Effortless English mini-story lessons and

Point Of View Lessons
Main audio lessons teach you important learning and psychological techniques for learning faster, for getting faster success. Main audio lessons will give you valuable information that inspires you to become successful in your life.
Vocabulary lessons are the audio lessons again. In these lessons, A. J. Hoge explains the meaning of the new words with lots of examples. You always learn with your ears, improving your listening with every lesson. Great listening eventually becomes great speaking.
Effortless English mini-story lessons are the most powerful lessons in the course. You learn English grammar, you learn English vocabulary, you improve your speaking and your listening using stories; fun, energetic stories.
A.J. Hoge tells a short story and then starts to ask a lot of questions about the story. You need to answer the easy questions out loud. You should listen to the mini-story lessons with a lot of repetition. So you will improve your English speaking skills automatically.
Point-of-view grammar stories are the lessons that teach you English grammar without grammar rules. A.J. Hoge tells the same story with different time frames. So you will learn English grammar subconsciously and easily. No studying grammar rules, no grammar textbooks. You learn grammar naturally, just like an American child.
Bonus Lessons For More Improvement
As a bonus, you get a text guide for each and every lesson, so that you can always read the text, and always understand everything. You get bonus action vocabulary videos. This is a powerful new way to learn and memorize new vocabulary in a quick, efficient, and fun way. You'll never forget the words you learn with these lessons.
Finally, as an extra bonus, when you join the course now, you also join our online community. An international community of positive, fun English learners. Join the Power English Course now, and learn to speak English powerfully.
Download the Power English course, listen to A.J. Hoge's Effortless English lessons every day, and start improving your English speaking skills fast. Click the button below, to download the Effortless English powerful listening and speaking lessons right now.
Why Does Effortless English Use Stories To Teach English?
Power English course has lots of stories. But these are special stories, not normal stories. Listen and respond mini-stories have the most common English vocabulary and grammar. In a strange, easy-to-remember story. And the story is told in a special way.
Effortless English uses lots and lots of easy questions to tell the story. Why?
Reason one: with the questions, we repeat key English grammar and vocabulary many times. So you remember the grammar and vocabulary longer and learn it more deeply.
Reason two: By answering questions you teach yourself to think in English. In real conversations, you don't repeat what the other person said. You respond to their questions. You answer quickly.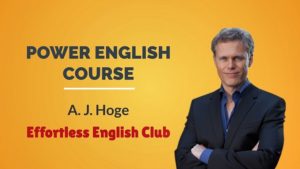 As you use Effortless English mini-stories try to answer questions quickly. Just answer with one or two words. You can answer silently in your head or loudly, out loud. Or if you prefer, just listen and don't worry about answering at all.
Repeat each mini-story at least 10 times for deep learning. Enjoy the strange and funny situations. Your English listening, vocabulary, grammar, and speaking will gradually improve, automatically.
Download Effortless English Lessons
All the lessons in this course are digital. So you don't have to wait for cargo for weeks. You can start using the lessons as soon as you download the Effortless English course.  
The mini-stories are the most powerful lesson in the Effortless English system. Listen to them daily, even when they seem easy. This will teach you to speak English powerfully. Click the button below to download Effortless English mini-story lessons.
Stories For English Listening And Speaking Practice